Visus LLC - Enterprise Software Solutions
Visus LLC is an Enterprise Software Solutions company and Microsoft Gold Partner, based in California. Founded in 1994 by Michael Daoud, Visus LLC provides expertise to its clients in two areas of Information Technology: .NET Application Development and Business Intelligence.
Visus LLC employs a unique and structured process and open communications model when developing solutions and applications to provide clients with peace of mind and success. Through the use of our unique process we are able to eliminate the risk, for our clients, of timelines being missed and budgets being exceeded.
In short, our process and experience provides our clients with the peace of mind knowing that their projects will be completed to their expectations.
As a Microsoft Gold Partner, Visus LLC focuses on Microsoft's supporting technologies for Web Development using .NET, C#, SQL Server, and SQL Server Reporting Services (SSRS), among others.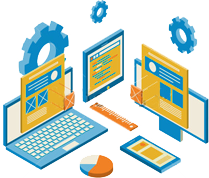 Visus LLC's technical skills are complemented by our business skills and years of experience, which we have found to be essential to the success of every project. Through a thorough discovery process and constant communication with clients, Visus LLC is able to consistently deliver successful results that are on time, on budget, and on target.
What Makes Visus LLC Different?
Our success has been based on the following:
Our ability to do a proper needs assessment and analysis at the beginning of every project
Our ability to understand a client's needs and to look at things from an end user's point of view rather than a pure programming point of view. This approach allows for easy to use user interfaces in the applications we develop
Our ability to deliver on time, on budget, and to the client's expectations
Excellent project management and open communication with our clients from beginning to end
Clients Benefit From...
An experienced professional team with years of technical expertise
A disciplined methodological approach that ensures timely, efficient, cost-effective delivery
Local presence to provide direct and prompt management and response