Sitefinity is one of the leading Content Management Systems for companies looking for an easy to use yet flexible and power platform that can be extended to meet an organization's needs. Sitefinity provides built-in features and functionality and an elegant and intuitive user-friendly interface. The Sitefinity platform is ideal for customizing a web presence that scales with your business. Visus' knowledge of the Sitefinity Platform puts the power of scalable, enterprise web content management in your team's hands.


Visus leverages the Sitefinity content management system to implement cost effective solutions that result in improved operational efficiency. Sitefinity allows Visus and you to focus on content management and promote enhanced customer engagement. Our experience in implementing Sitefinity and in providing customizations tailored to your needs allows for flexible content management control to be placed in your hands. This control provides a simple and easy means to update website content without the requirement of a developer's assistance. Sitefinity has proven to be a flexible framework that allows Visus to implement and customize easy-to-use user interfaces in the applications we have built. By focusing on outstanding user experience through journey mapping, competitive website analysis, wire frames, and justifying every element on a web page we successfully implement your vision. The effort of the website applications we create together is then directed towards enabling efficient content creation and enhancing visitors' experiences.
Why Sitefinity?
Sitefinity is a leading CMS made by Progress and includes many out-of-the-box features. It is built on Microsoft's .NET framework which allows it to be extensible and easily integrated with other systems including Single Sign-on authentication. Sitefinity is very popular among users for its multisite capability and ease of use in performing website content updates.
Sitefinity allows for the creation of professional, dynamic, and interactive websites that are easily customizable. The Content Management engine also enables streamlined management of content and tools to attract, engage and convert through the web, email, social and mobile channels.
Sitefinity Partner
Visus is a Sitefinity Partner, a Sitefinity Delivery Partner (exclusive group of partners delivering solutions to Progress clients) and only one of eight partner MVPs worldwide. As a Sitefinity MVP partner, Visus is in direct communications with the Sitefinity Product Manager to discuss enhancements and features that can be part of the roadmap for future releases.
Expertise
Visus specializes in content management systems (CMS) and uses its unique discovery process to architect, design and develop world class websites using the Sitefinity CMS product.
With years of web development experience and a deep knowledge of the .NET architecture since it was originally created, Visus is an ideal choice for the implementation of Sitefinity website solutions. Whether creating a content-based web presence or a multi-site environment that marketing teams can manage from one place, Visus clients rely on our experience, expertise, and commitment to delivering elegant solutions that are high in quality and user experience.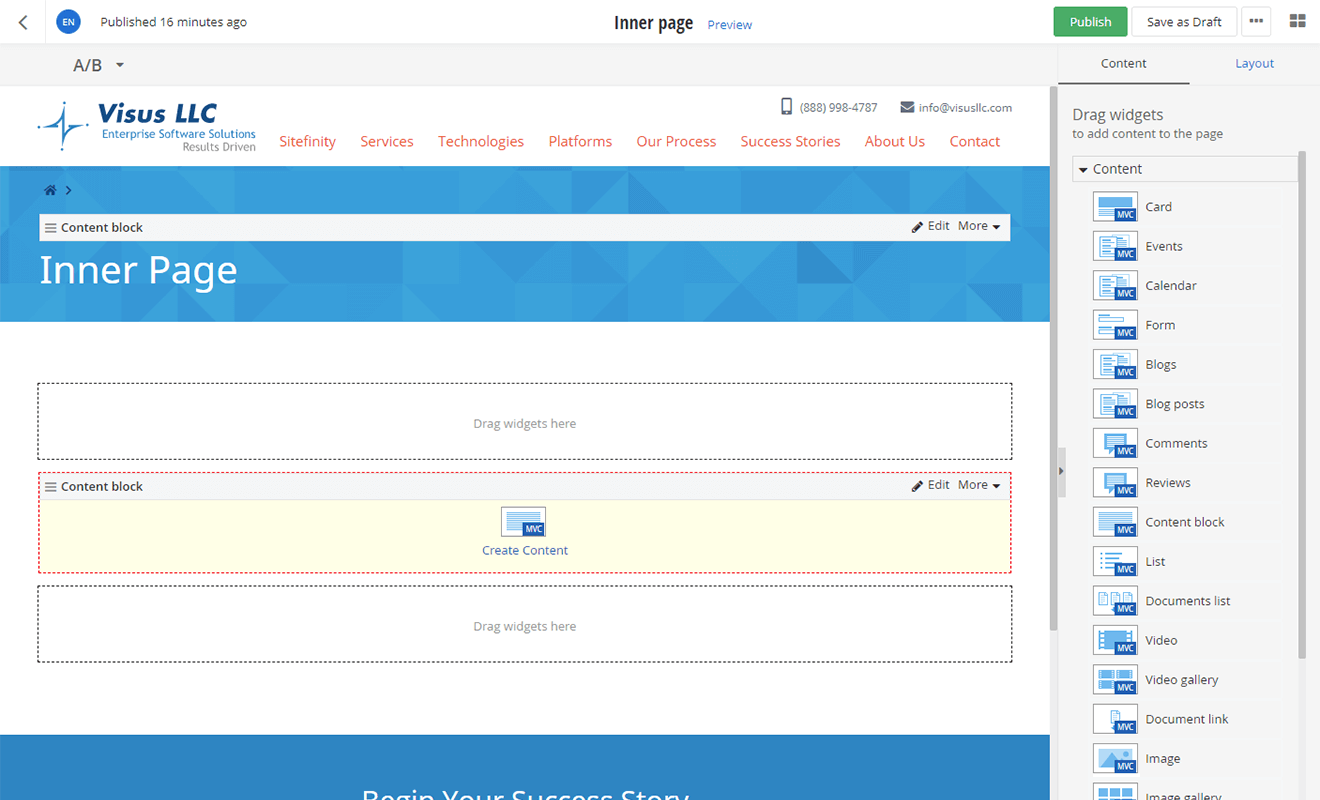 Personalization
Delivering a personalized website experience to your website users can lead to valuable insights about their preferences and interests. Sitefinity's built-in personalization functionality enables you to analyze, optimize and personalize the digital journey of your users while providing important rich data and insights useful to validate any new content and applications, and thus maximizing your marketing efforts.
ADA Compliance
Sitefinity provides all the tools necessary to achieve a frontend design that meets all (American Disabilities Act) ADA requirements.
Integration
One of the most powerful features of Sitefinity is the ability to extend it using the .NET framework. With this power, Sitefinity can be integrated with many other systems. Some with out-of-the-box connectors and others through customizations. Visus has built integrations with many systems including authentication systems for single sign-on to provide a seamless user experience to end users.
Security
Sitefinity has a built-in Web security module that protects your website against various external attacks, including content sniffing, code injection, clickjacking and cross-site scripting. In addition, a second layer of protection in the module activates Web browsers' built-in security features and screens for redirects and unvalidated domain calls. And Sitefinity uses the .NET security model and offers both granular permissions and SSO capabilities.
Mobile Device Support
Sitefinity offers Twitter Bootstrap layout elements out of the box as well as oData web services for both OOB and custom content types. These can be consumed and displayed by a mobile app or a custom frontend.
Multiple Language Support
Sitefinity offers full multilingual functionality. Visus is also a Lionbridge Partner. Lionbridge provides full translation services for over 300 languages and can be fully integrated with Sitefinity. More info can be found here.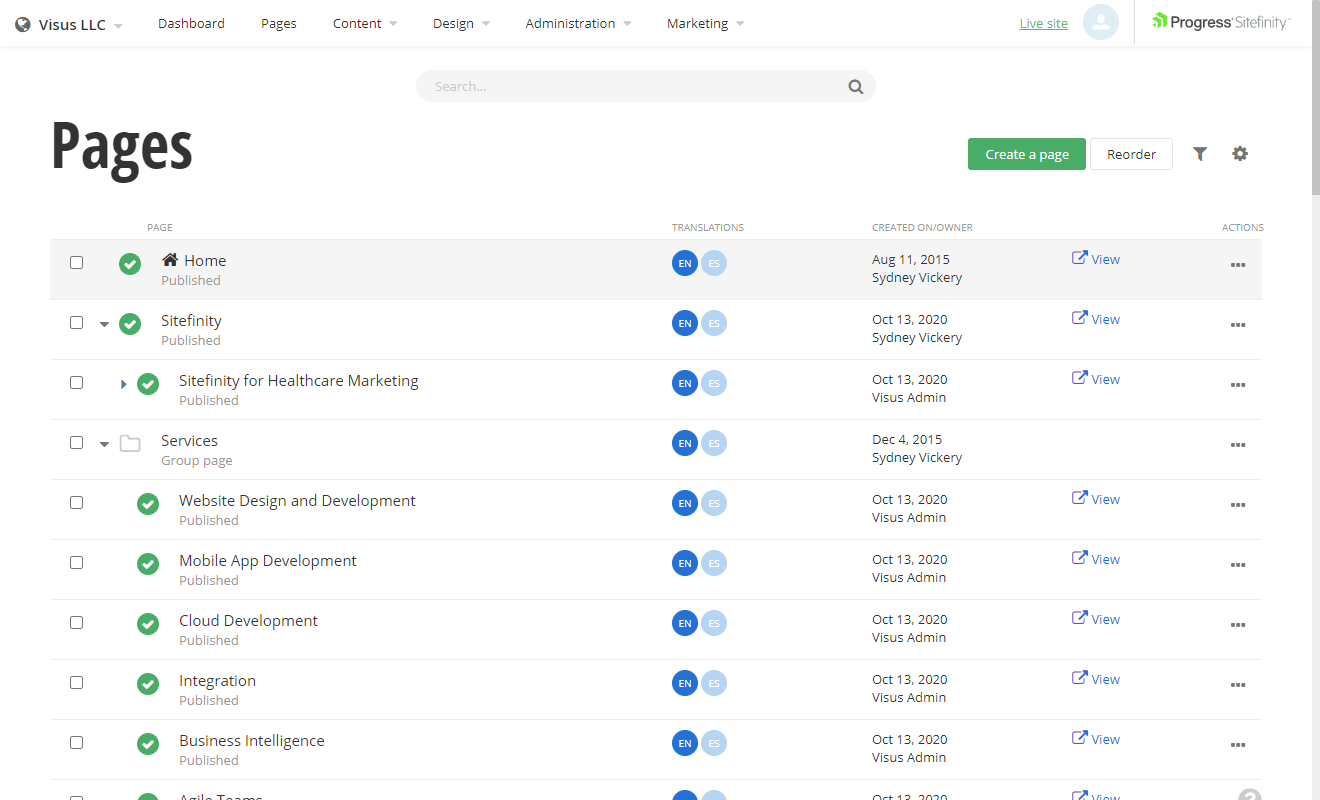 Sitefinity Maintenance
Well managed websites are constantly updated and enhanced. Visus works closely with you to provide Managed Website Services and create a maintenance plan to provide post-launch optimizations. Post-launch optimizations are followed by continuous support to maintain the site and add new features and enhancements after a site has gone live. Site maintenance plans are based on each client's need and can be crafted for each client's needs. Maintenance plans vary from 50 to 100 hours per month per website.
Hosting Options
Sitefinity offers several options when it comes to hosting. With its perpetual licensing model, companies can choose to host Sitefinity in their own data center.
Many companies have also opted is to host their website in Microsoft's Azure PaaS platform which provides many features from built-in backups to auto-scaling to handle traffic spikes as they occur without the need to pre-provision equipment. Read more about Azure PaaS here.
Sitefinity also offers a world class SaaS cloud hosted solution that is based on Microsoft Azure. The cloud offering is actively managed and monitored by the Sitefinity NOC (Network Operations Center) team 24x7. The offering provides the latest in security and reliability and puts all hosting support in the hands of the Sitefinity experts.

Sitefinity Cloud has been designed to ensure the best uptime, performance and scalability of your website. Utilizing various Microsoft Azure services and mechanisms like Load balancing, Autoscaling, Geo replication and Failover clusters, Sitefinity Cloud intelligently distributes your website visitors load to the available web server nodes, hosting your website and scales resources up or down depending on the current load. Moreover, utilization of failover clusters and geo-replication guarantees that failed deployments to the production environment can be safely reverted without affecting the live website performance.
Demo
If you are not familiar with Sitefinity, a product that is used worldwide, we would be happy to setup a demo and invite you to explore it and learn about its solid foundation and ease of use.
Sitefinity Training
In partnership with Lino Tadros, the CTO of Visus and member of its Board of Advisors and Sitefinity MVP and Guru, Visus LLC is proud to offer the following training classes for Sitefinity..
Training